October 10, 2022
Roundworms are a parasite that can commonly affect house pets such as dogs and cats. There are two primary species of roundworms.
The first is Toxocara Canis. This type of parasite can move around the body once they become mature.
The second is Toxascaris Leonin. This type of parasite remains in the intestinal tract.
Nevertheless, both of these types of roundworms do absorb the nutrients from your dog and need to be taken care of as soon as possible. Roundworms tend to look like long strands of thin spaghetti. These parasites commonly attach to the lining of your dog intestines.
What are the Symptoms of Roundworms in Dogs?
There are a variety of different signs and symptoms that you may see in a dog with roundworm infestation. The most common symptoms include:
Nutritional Deficiencies
Diarrhea
Cough
Dehydration
Lethargy / Low energy
Swelling in Abdomen (more common in puppies)
Pneumonia
Should you notice any of these signs in your dog, contacting your veterinarian as soon as possible is highly recommended. Medical staff can examine your dog's stool to see if there are roundworms in it.
What are the Causes of Roundworm in Dogs?
Dogs can contract roundworms several different ways. The most common ways include:
Eating or chewing soil that has roundworms in it.
Laying or walking on contaminated soil.
Hunting or retrieving animals that have roundworms.
Puppies generally contract roundworm through their mother's breast milk.
How to Diagnose Roundworms
There are a few different ways that you can diagnose your dog with roundworms.
These are:
Observing the roundworms in your dog's stool.
Fecal test administered by your veterinarian.
Basic Treatment for Roundworms in Dogs
If your dog does contract roundworm, your veterinarian can prescribe your dog a dewormer which will help to rid these worms from your dog's body. By keeping your dog's area clean and preventing them from eating things that they should not eat, you can keep them from getting roundworms.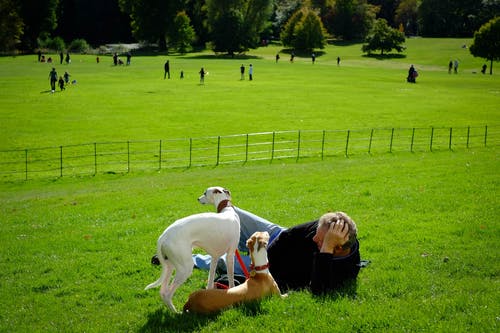 Roundworms and Humans
Roundworms do pose a significant risk to humans. Contact with contaminated soil or dog feces can result in human infection. Roundworm eggs may accumulate in significant numbers in the soil where pets deposit feces. Once infected, roundworms can cause eye, lung, heart and neurologic signs in people. This is just one of many reasons why cleaning up after your dog is important.